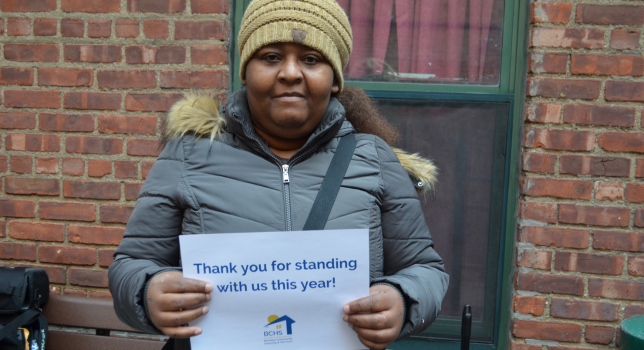 BCHS, along with 85+ organizations, joined the Supportive Housing Network of New York to call on Governor Hochul to update critical funding streams for supportive housing programs in New York state to minimize homelessness recidivism. In a letter to the Governor, the network urges for increased support of the New York State Supportive Housing Program (NYSSHP) through incorporating the program into another existing program, the Empire State Supportive Housing Initiative (ESSHI), to achieve funding parity between the supportive housing programs.
The NYSSHP and ESSHI initiatives both aim to expand and maintain supportive housing programs and services for New Yorkers, however the NYSSHP funding formula has remained outdated since 1987, while the ESSHI program was only created in 2016 with a more aggressive funding allocation. With the rising cost of living due to inflation, it is imperative that all supportive housing programs are equally funded to prevent a gap in care for our housing vulnerable neighbors.
Over 29,000 New York residents rely on programs funded by the NYSSHP for critical services from rental assistance to mental healthcare, vocational training and other supportive services necessary to prevent homelessness. The allocation under this program is $2,736 for individuals and $3,672 – per year, which is inadequate for providing the breadth of services necessary. The ESSHI allocation, however, is $25,000 to support both rental assistance and other services – a big discrepancy from the funds available to the NYSSHP program. Integrating the two would better equip supportive housing organizations to provide equitable services for all.
BCHS recognizes the commitment that Governor Hochul has made to supportive housing services and organizations, like ours, and looks forward to seeing her continued investment. By combining these funding programs, supportive housing organizations can continue the fight to end homelessness.