BCHS 2019 "Feels Like Home Gala"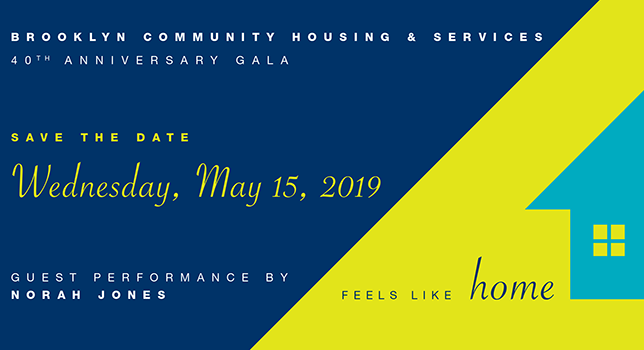 On May 15th, we will host our 40th Anniversary Feels Like Home Gala. It promises to be an exciting celebration of BCHS' ground-breaking history of innovation and compassion, that will include a rich array of Brooklyn delicacies, and fun, unique silent auction items. And we are thrilled that the wonderful Grammy Award Winner Norah Jones will provide a guest performance!
The Feels Like Home Gala celebrates the idea that everyone thrives when they are part of a safe and welcoming community that feels like home. Your contribution helps provide vital financial resources to enhance and expand BCHS' life-saving supportive housing and homelessness prevention programs.
Sponsors (as 0f 03.21.19)
Honoree
Lamb Insurance Services
Underwriter
Monadnock Construction, Inc.
Benefactor
Riva Horwitz and Josh Easterly
Alphonse Lembo
Lexy Mayers and David Lesser
United Industries & Construction Corp.
Urban Precast, LLC
Champion
Arctic Air Conditioning Systems, Inc.
Ambriel and Hawes Bostic
Jessica and Donald Brennan
Glo Electric, LLC
The Greenspan Ratner Family
M&T Bank
Laura Schnell and Mitch Pacelle
Urban Architectural Initiatives
Partner
Ann Alexiadis and John Kotaridis
ASRJ Contracting Corp.
Victoria Azara, Ph.D.
Susan and Ben Baxt
Alexandra Bowie and Daniel Richman
Bob Buckholz and Lizanne Fontaine
Clifford and Leslie Cohen
Leslie Feder and Garrick Leonard
Host Committee (as 0f 02.28.19)
Ann Alexiadis and John Kotaridis
Ia Andrews and Eliot Merrill
Victoria Azara, Ph.D.
Susan and Ben Baxt
Ambriel and Hawes Bostic
Alexandra Bowie and Daniel Richman
Jessica and Donald Brennan
Bob Buckholz and Lizanne Fontaine
Clifford and Leslie Cohen
Leslie Feder and Garrick Leonard
The Greenspan Ratner Family
Liza Hamm
Jens Peter Hansen and Elena Feliciano
Riva Horwitz and Josh Easterly
Jonathan Jones
Lexy Mayers and David Lesser
Justin Meshberg and Romy Soleimani
William and Ann Marie O'Brien
Nellie Perera and Anthony DeAngelis
Nadja Pinnavaia and Daniel Watts
Laura Schnell and Mitch Pacelle
Christine Spadaro and Rick Lodewick
Anthony and Laura Trani
—
Host Committee Registration
click here